100% remotely operated switching puzzle,
a variation based on John Allen's Timesaver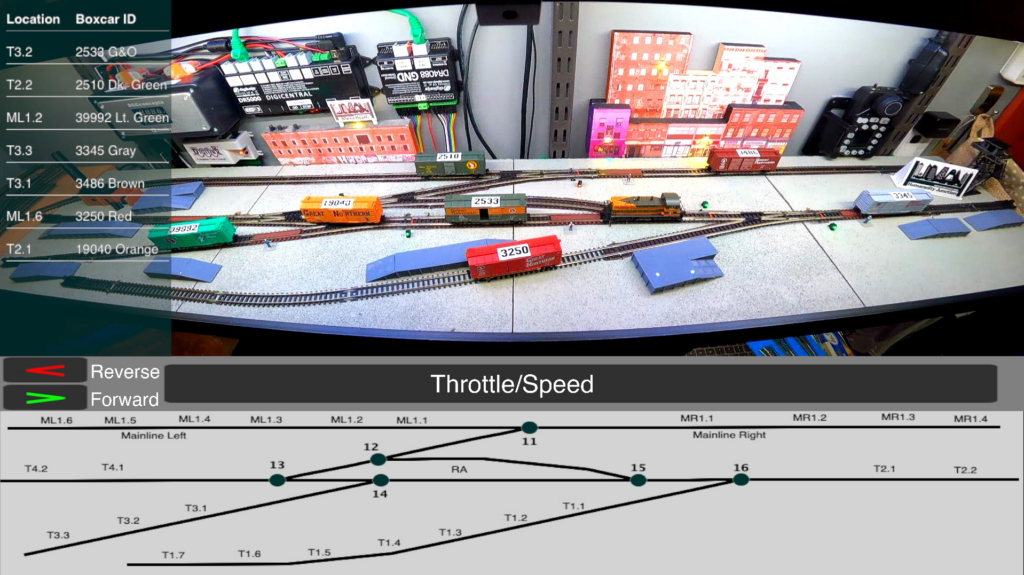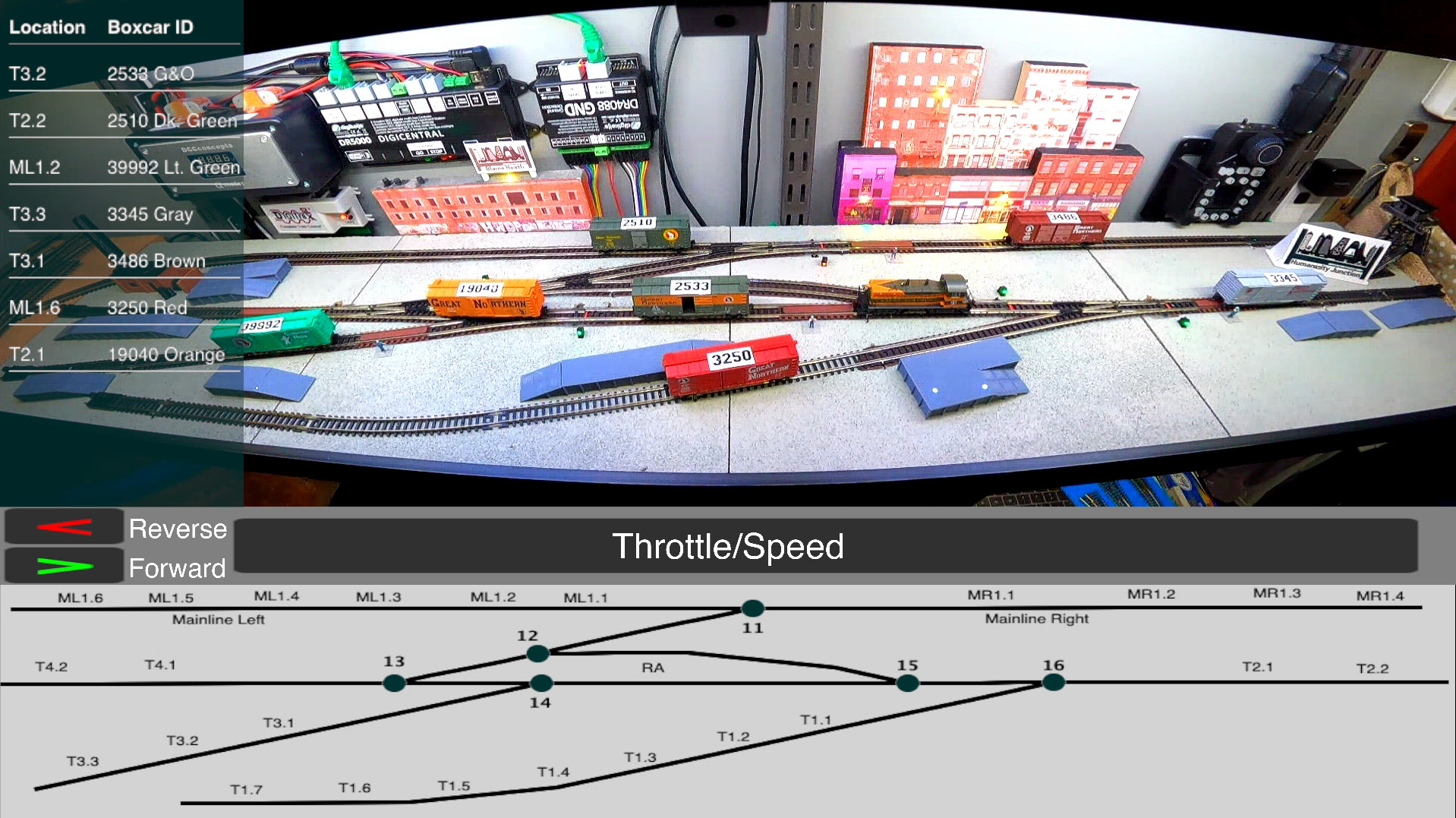 ---
Technology Summary
Goals
My goal was to create a layout that could be remotely operated and could be shared with the community. While I was able to take guidance from those that have ventured into the realm of remote operations, there were still several challenges I had to overcome. I am still making improvements as I want this to be the best version of a 100% remotely operated switching puzzle as possibe.
Options
Once I decided I wanted to base my layout around a switching puzzle there were three main options that I considered. The Inglenook, The Timesaver and Switchman's Nightmare. I eventually settled on creating a version of John Allen's Timesaver.
Control System | DCC
The first step to enable remote operations was to setup the model railroad so that it did not require local intervention. The system is controlled by a Digikeijs DR5000 DCC Command Station, the turnouts all have slow motion switch machines controlled by DCC, and the uncoupling is accomplished with delayed uncoupling magnets. At this point operation could be completed without touching the model railroad, but the second step was remote access.
Software
The backbone of the remote operations portion of the railroad is JMRI, Java Model Railroad Interface. I have this software running on a dedicated MacBook Pro. Through the use of the JMRI Web Server an operator is able to remotely access the locomotive throttle and the turnout control panel. The WiThrottle server can also be used for remote operations with a smartphone. I am using DDNS, a Dynamic Domain Name Server as well as port forwarding to enbale access to JMRI Web Server. Once requirement for remote switching a yard or puzzle is a low latency connection between the remote operator and the model railroad.
Camera Connection
While low latency is important for throttle control, it is extremely important when it comes to what the operator sees. My goal was to enable the remote operator to couple and uncouple cars remotely without any local help. This requires very precise control and real time visual support which means any video service that uses a cloud server will not work, eg. Skype, Zoom, Teams, etc… The ultra low latency view for the layout is provided through the use of a peer to peer video connection called VDO.Ninja. This tool was one that I have been testing for use with OBS and Live Streaming and it is the perfect solution for this project.

Turnout Feedback
I also added some visual turnout feedback by connecting Red/Green Dwarf signals to the SPDT switches on the Smails. While the turnout control panel should be accurate, this additional visual confirmation has been appreciated by the operators.
Puzzle Challenge/Solution
At this point the puzzle was able to be remotely operated, but we needed to establish the challenge. What I decided on is a randomly generated switchlist which based on the challenge level you pick will provide you with track locations and the cars that need to be spotted in this location. The puzzle currently has a maximum of seven boxcars on the layout, but it might expand to nine. You can select from Apprentice, two boxcars, Journeyman, four box cars, Expert, six boxcars or Master, seven to the max number of boxcars on the layout.
While there were some hiccups along the way, this is a successful implementation as to what is possible with remote operations of a switching puzzle. For more information, please reach out to me via email.
---
Photo Gallery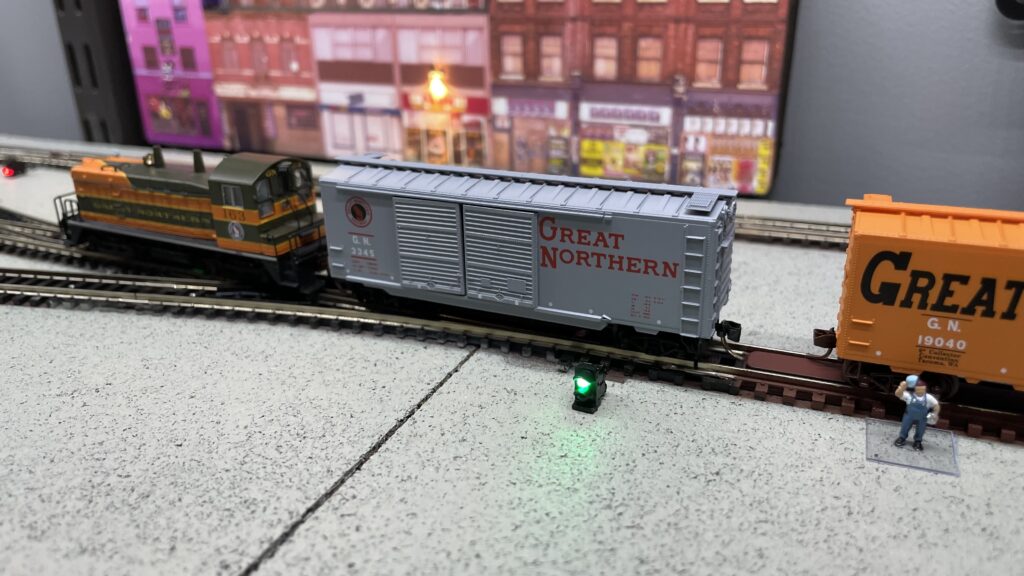 ---
Project Parts List
| | |
| --- | --- |
| Baseboard | |
| 1 | 48″ x 10″ Shelf – Rubbermaid (Home Depot) |
| 3 | Shelf Brackets (Home Depot) |
| 4 | 12″ x 12″ x 1/2″ Cork Pieces (Amazon Affiliate Link) |
| 2 | PTF Designs Background Flats (PTF Designs) |
| Track | |
| 16 | 2501, N Atlas Code 80, Straight 4.88″ (Iron Planet Hobbies) |
| 7 | 2509-2½, N Atlas Code 80, Straight 2.44″ (Iron Planet Hobbies) |
| 2 | 2509-5/8, N Atlas Code 80, Straight 0.61″ (Iron Planet Hobbies) |
| 2 | 2516, N Atlas Code 80, Curve radius 18.94″, angle 15º (bulk) (Iron Planet Hobbies) |
| 6 | 2536, N Atlas Code 80, Buffer/Bumper 2.76″ (Iron Planet Hobbies) |
| 4 | Peco SL-E396 N Scale Code 80 Left Hand Turnout Switch Medium Radius Electrofrog (Iron Planet Hobbies) |
| 2 | Peco SL-E395 N Scale Code 80 Right Hand Turnout Switch Medium Radius Electrofrog (Iron Planet Hobbies) |
| 6 | Micro-Trains 988 00 172 Magnetic Uncoupler (Micro-Trains) |
| 1 | Walthers #933-2602 Track bumpers yellow (Walthers) |
| 3 | Peco #PL82 Power Feed Joiners Code 55/80 (4 Pcs) (Peco) |
| 1 | Woodland Scenics A2147 Train Mechanics 6pcs (Iron Planet Hobbies) |
| 6 | Dwarf Signals – Red/Green LED Turnout Identification (eBay) |
| 1 | Package of Track Nails |
| Control | |
| 1 | Digikeijs DR5000 Command Station (Iron Planet Hobbies) |
| 1 | DCC Concepts Alpha Meter (Iron Planet Hobbies) |
| 1 | Digitrax UR93 Duplex Radio Transceiver (Iron Planet Hobbies) |
| 1 | Digitrax UT6D Utility Throttle (Iron Planet Hobbies) |
| 1 | Digitrax UP5 Universal Panel (Iron Planet Hobbies) |
| 6 | NCE Red Momentary Push Buttons (Iron Planet Hobbies) |
| 6 | NCE Green Momentary Push Buttons (Iron Planet Hobbies) |
| 6 | Circuitron 800-6200 SMAIL Slow Motion Switch Machine (Iron Planet Hobbies) |
| 1 | DCC Specialties PSX-1 Digital Circuit Breaker (Iron Planet Hobbies) |
| 1 | Digikeijs DR4088GND (Feedback from Switch Motors) (Iron Planet Hobbies) |
| 1 | 9v DC PSU 3amp (Amazon Affiliate Link) |
| 1 | 100′ spool 22awg wire – Red (Amazon Affiliate Link) |
| 1 | 100′ spool 22awg wire – Black (Amazon Affiliate Link) |
| 1 | 100′ spool 22awg wire – Blue (Amazon Affiliate Link) |
| 1 | 100′ spool 22awg wire – White (Amazon Affiliate Link) |
| 1 | Breadboard wires (Amazon Affiliate Link) |
| 10 | Male 2.1×5.5 Barrel Plugs with Screw Terminals (Amazon Affiliate Link) |
| 10 | Female 2.1×5.5 Barrel Plugs with Screw Terminals (Amazon Affiliate Link) |
| A lot | Lever Nuts Assorted (Amazon Affiliate Link) |
| Lighting | |
| 1 | LED Tapelight (Govee RGBIC) (Amazon Affiliate Link) |
| 1 | 6x Torchstar Cool White LED Strips (Amazon Affiliate Link) |
| JMRI and Streaming | |
| 1 | 13″ MacBook Pro |
| 1 | GoPro Hero 9 – Superview (Really Wide Angle) (Amazon Affiliate Link) |
| 1 | GoPro Media Mod (Amazon Affiliate Link) |
| 1 | HDMI Capture Card – XR1 Lite (Amazon Affiliate Link) |
| 1 | CalDigit TS3 – Thunderbolt Dock (Amazon Affiliate Link) |
| 1 | Lavalier Microphone (Amazon Affiliate Link) |
| Rolling Stock | |
| 1 | Switcher – BLI 3936 SW7 Great Northern 163 (Iron Planet hobbies) |
| 15 | Great Northern "Circus" 40′ Boxcars (Info) |
| 15 | Micro-Trains 1000 Bettendorf Trucks w/ short ext. couplers 1 pr (MTL) |
| 60 | Intermountain 34.5″ Brass Insulated Wheelsets for MTL Axle Length: 0.537″ (Link) |
| 30 | Tungsten Bullet Weight 1/8 oz, Black (Amazon Affiliate Link) |
---